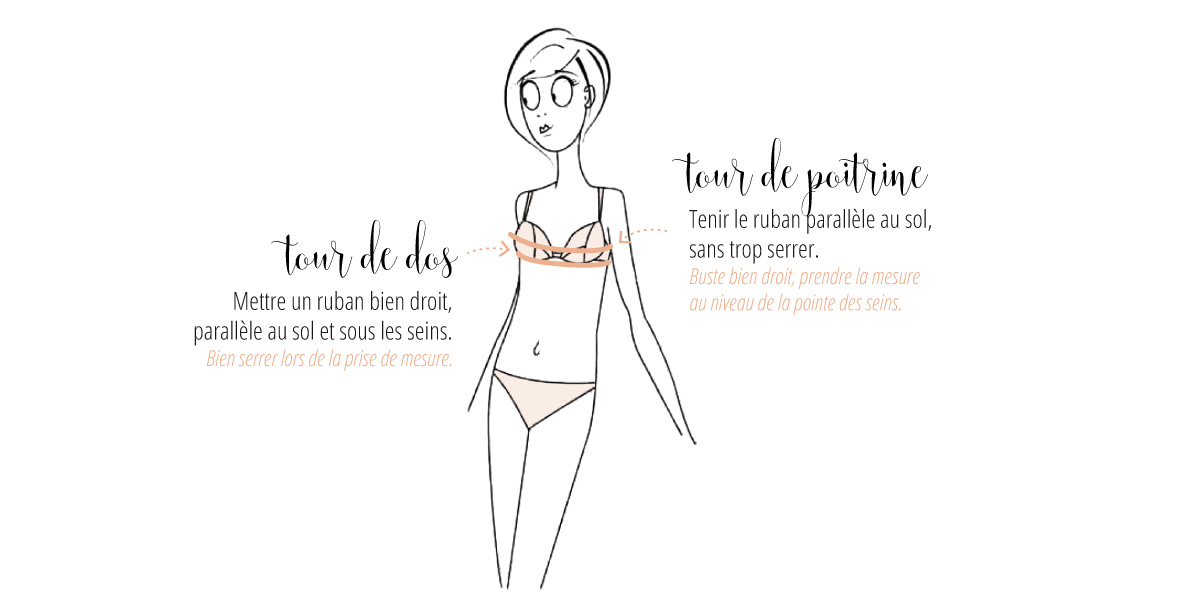 Size guide
Too many women still don't know the exact size of their bra, but for us it's easy because it's our job!
So we're going to give you some tips on how to choose your pretty underwear.
First of all, a little rule of thumb: the size of a bra consists of two elements:
A number (85, 90, 95 …) which changes from five to five and defines your back size.
A letter ( A, B, C, D …) which corresponds to the depth of the cups.
We will now use a few measurements to help you determine your "theoretical size".
Put on your favourite bra, the one you feel comfortable in (recently bought, and without foam reinforcement of course).
Take a tape measure with you.
Stand in front of a mirror and hold yourself upright.
You are ready, here we go!

Measure your back and chest size
Then refer to the two tables below to calculate your size.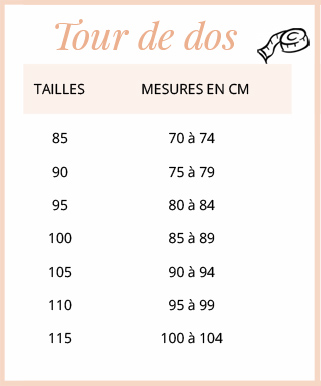 Ex: You have measured 82 cm for your back, so you are between 80 and 84 cm, which is a size 95.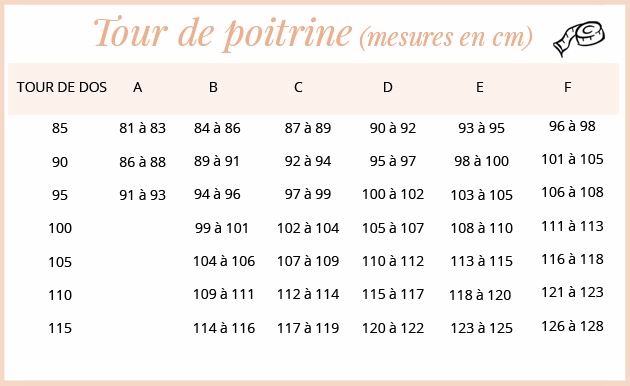 Ex: You have previously defined a size 95 for your back, and you have measured 97 cm for your chest.
Catherine Lefebvre's
tips
YOUR SIZE IS: 95 C
But be careful, these tables are only indicative because it is really very delicate to measure oneself, and sometimes it only takes a mistake of a tiny centimetre for the size to be wrong…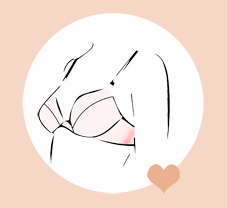 So we're going to let you in on our little corsetry secrets, so you can check your bra size in a few simple steps: 
Put on a recently bought bra, in which you feel good.

Position your chest by centering it well in the cups.

Adjust your straps well. Too loose, the cups do not apply to the chest; too tight, they cut the shoulders and deform the cups.
STAND IN FRONT OF A MIRROR AND OBSERVE: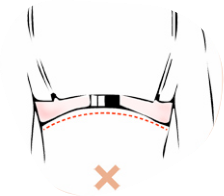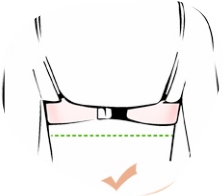 The back
You must be able to pass two fingers behind your staple and stretch your back. If this is not the case, your back is too small and your bra will be horribly uncomfortable to wear. If we take the example of a 95 C, we will have to go to size 100 B, increase the length of the back while keeping the same cup size (see size correspondence table).
Your staples are coming up at the back. If you can tighten it enough to keep the back straight when wearing it, you have the right size. If not, this means that your back is too big and instead of your 95 C you will have to wear a 90 D, that is to say a bra with a shorter back but an equivalent cup (see size chart).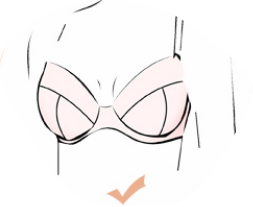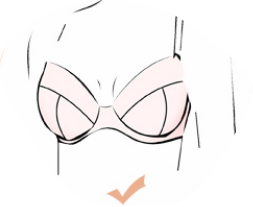 The separator 
(part between the cups)
It should be placed well between the breasts. If it comes off or rides up on your chest, it is because your cup depth is not sufficient. 
If your back size is correct and you are wearing a 95 C, you should now opt for a 95 D (same back size but larger cup size).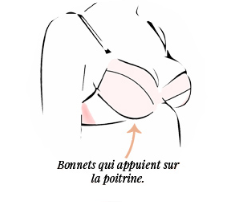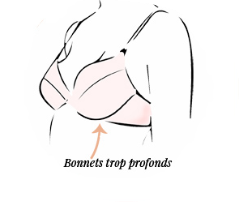 The cups
The top of the cup presses against your chest, your breasts stick out at the sides. Your bra is too small, you need an extra cup depth, that is to say a size 95 D instead of 95 C.
The top of the cup does not fit over the breast, there is a gap between the material and your bust. Your cups are too deep and we advise you to wear a size underneath, that is to say a 95 B instead of a 95 C.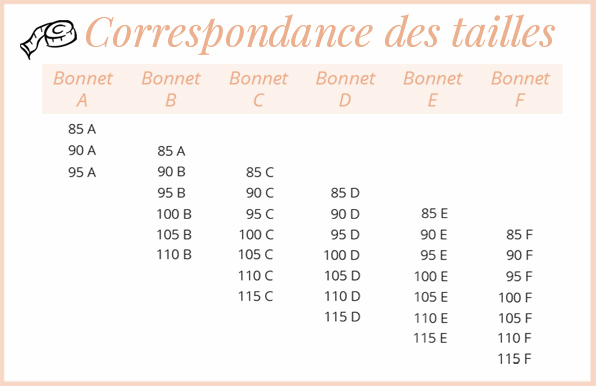 Now you know, if you are wearing the right bra size, the application of the back, separator and cups must be perfect.
And by choosing lingerie perfectly adapted to your measurements, you will feel divinely well and beautiful in your lingerie…
But don't forget that, beyond the size, the cut and the material are important elements in the choice of a bra, and that nothing can ever replace a fitting. 
So if you want to find the perfect bra, it's just a click away.
Why choose a
fashion advisor?
A relationship
human
quality
Tips
in images
personalized
A service
aftersales
luxury
One of our fashion advisors will be happy to contact you, with personalized advice and a fitting of your beautiful 100% French-made lingerie.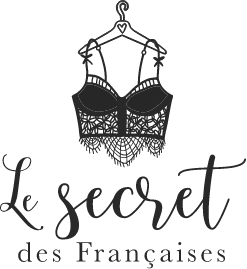 Vous êtes passionnée par la mode ?